A usual category of houses is called slab-on-grade. These are houses that do not have a basement or crawl space beneath them, but rather they were built on top of a concrete slab. This is a construction strategy applicable where the house is located on a bedrock or a high water table. Foundations of these houses would sometimes have post-tension cables to support the weight of the house. Another option to strengthen the foundation would be to add steel rods called rebar. Slab foundations are more common in warm climate states where the ground would not freeze resulting in a crack in the foundation.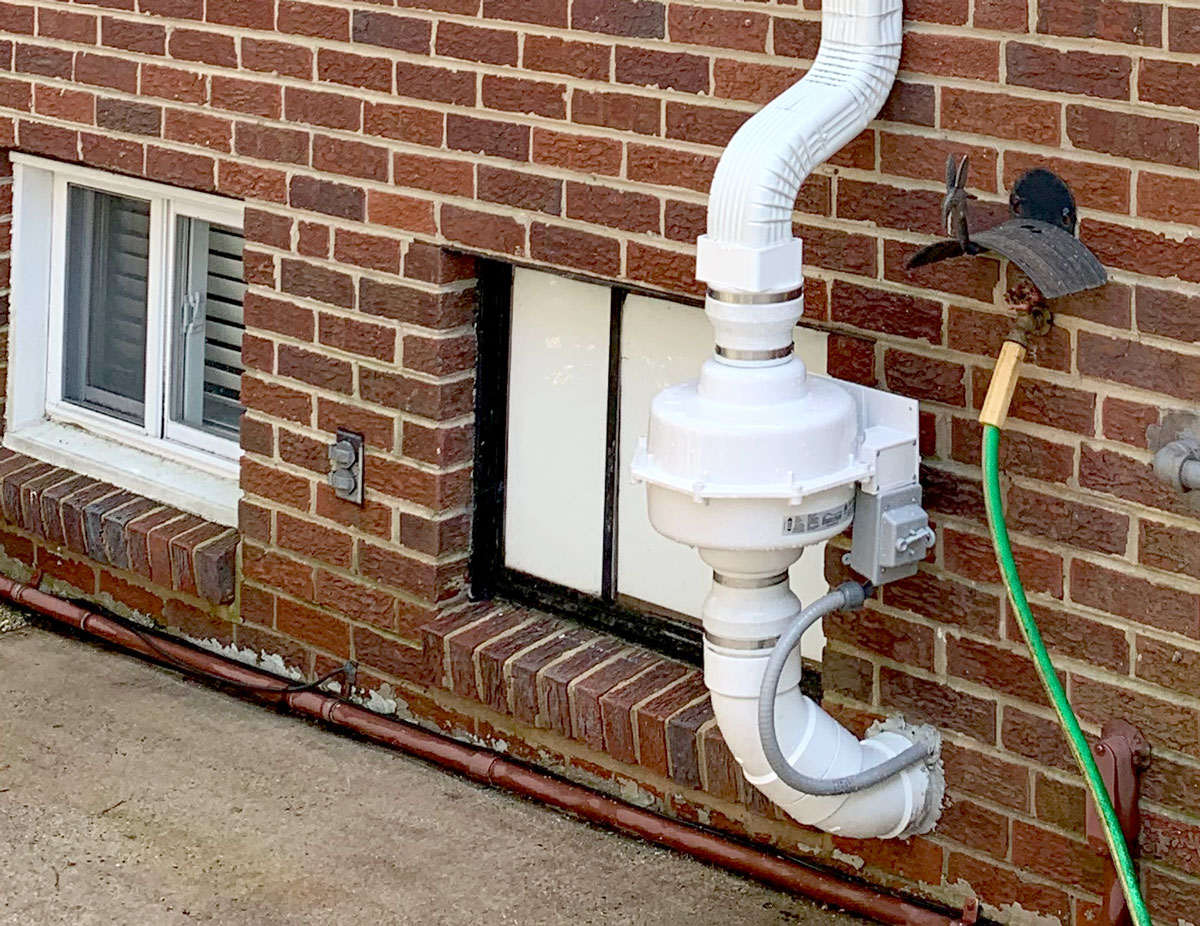 There are different methods to mitigate radon for slab-on-grade houses as follows.
Sub-slab Depressurization. It is the most common choice of radon reduction method for slab houses. Its objective is to lower the pressure underneath to avoid radon gas from escaping the ground by pulling in the air. It is done by inserting a suction pipe through the floor slab and allowing air to move into the crushed rock or soil underneath. This creates an air trap that prevents the escape of radon gas.
Drain tiles or perforated pipe. Some houses do have pipes that direct water away from the foundation of the house. Suction can be added to these tiles or pipes to draw out radon. It is often an effective method for reducing radon concentration at home.
Sump hole suction. It is a variation of sub-slab drain tile suction. Some houses do have a sump pump in their basement to remove unwanted water. The sump can be capped so that a suction pipe can be added to it while still letting it draw water.
Block wall suction. This is recommended for houses with hollow block foundation walls. This method inserts sub-slab suction to the hollow walls to draw air into the wall and down the ground. This increases the pressure on the wall and ground trapping the radon gas. 
Regular radon testing and radon mitigation by professional radon inspectors are needed especially in areas with a high concentration of uranium, thorium, and radium. At Atlantic Radon, we provide quality radon testing and radon mitigation services. Keep your family safe from Radon. You can schedule a radon testing in Annapolis, Columbia, Crofton, Ellicott City, Gaithersburg, and Severna Park, MD with us. It is important to make sure your home is safe from radon. To learn more about radon testing in Annapolis, Columbia, Crofton, Ellicott City, Gaithersburg, New Market, Severna Park, and Urbana, MD fill out our contact form today.